2022-2023 Season - Registraton Now Open
Proud Member of Skate Canada Since 1975, Lakeshore, Ontario, Canada
SKATE LAKESHORE IS A NOT FOR PROFIT ORGANIZATION THAT IS RUN BY VOLUNTEERS WHO DO THEIR BEST TO MAKE LEARNIG TO SKATE AN ENJOYABLE EXPERIENCE.
OUR PRIMARY METHOD OF COMMUNICATION IS BY E-MAIL AND NOTICES POSTED ON OUR WEBSITE AND SOCIAL MEDIA DURING THE SKATING SESSION.
News
SYNCHRO, STARSKATE & JUNIOR PROGRAMS
posted Sep 8, 2022, 10:24 PM
Hello,
Just a quick reminder that our Synchro, Starskate and Junior programs are starting up on Saturday. Looks to be a great year! Anyone wanting to help out on our CanSkate programs please let us know we have some skaters on our waiting list that we would love to have join us.
Thank you,
Skate Lakeshore
CRAFT & VENDOR SHOW
posted Sep 4, 2022, 9:53 PM
SKATE LAKESHORE CRAFT AND VENDOR SHOW IS BACK!
We are reaching out to our current members to see if you would like to participate as a vendor in our annual craft show. Our goal is to have a variety of items available for our patrons. Please email us if you are interested in participating (skatelakeshore@hotmail.com). Details listed below:
DATE: Saturday November 26, 2022
TIME: 9am - 2pm (expected to stay until 2pm)
COST: $40 per table
Fee will include a 6 foot table and chair. All proceeds go towards the ice cost for Skate Lakeshore. Donation of small door prize may be requested.
REGISTRATION 2022-2023
posted Jul 27, 2022, 10:17 AM
Hello, registration for the 2022-2023 season is now open. We have some great additions and a few changes. Please remember that we will fill up fast and to place your name on the waiting list if necessary. We do try our best to include as many skaters as we can. Log onto your account to register.
**NEW
CanSkate for Hockey - Tuesdays
Power Skating - Thursdays at 4pm
Synchro Program - Monday
Adult Skate (Learn to Skate) - Saturday
Please email us if you have any questions skatelakeshore@hotmail.com
SUN SPLASH
posted Jul 9, 2022, 7:34 AM
We want you to come and Join Us Saturday July 16th!
Skate Lakeshore is walking in the Parade and would like to invite our skaters to come and join us (parents and siblings are welcome too)!
We will be meeting at the Belle River High School at 9:15am. Please let us know if you will be attending so we can be sure to watch for you. (email skatelakeshore@hotmail.com)
Parade information:
The parade will begin at 10:00am and will flow down Notre Dame Street. This year, the parade will start and end at Belle River District High School at 333 South Street.
We can't wait to see you!
CANADA DAY
posted Jun 30, 2022, 11:52 PM
Come and see us at the Woodslee Community Centre for the Canada Day Celebration we will be selling Poppers Kettle Corn. Stay for the fireworks and the events starting with the Parade at 3pm.
Canada Day Information Click Here
SUMMER CAMP
posted Jun 6, 2022, 11:08 PM
Figure Skating Camp (7+ years)
August 8th - 12th, Atlas Tube Recreation Centre
Hosted by Skate Lakeshore and the Town of Lakeshore
Skaters will be required to wear a helmet unless they have passed their Stage 5 badge in the CanSkate program. Recommended that skaters are working on a minimum of Stage 2 CanSkate Badge. Skaters will be grouped by age and ability.
To check to see what level you skater is at please see instructions at: https://www.skatelakeshore.com/pages/Club-Info/My-Skaters-Progress/
Participants will be working on skills on and off ice. Skaters will be offered a variety of activities that are directly related to the sport of figure skating. While off the ice, skaters will work on flexibility, mindfulness, team building and core training While on the ice, skaters will work on various skills found in all disciplines of figure skating.
Camp also includes dry land training, games and activities plus daily swimming. Please bring your skating equipment, lunch, snacks and water plus swimsuit and towel.
You can register at the Atlas Tube Recreation Centre using the code 13288.
SPRING SEASON STARTING
posted Apr 15, 2022, 9:46 PM
Just a quick reminder that Spring Skating will be starting tomorrow morning and all CanSkaters, PreCanSkate and P&T (including parent) must wear a hockey helmet. See you on the ice!
PICTURES
posted Apr 15, 2022, 9:46 PM
A link was emailed to everyone who skating for the 2021-2022 season that included 3 videos with lots of pictures. Please contact us if you did not receive the email. If you would like a copy of the video we can provide you a USB for a very small fee.
SPRING 2022
posted Apr 5, 2022, 11:20 PM
Spring Season is getting closer. Next week our Monday (April 11th) and Saturday (April 21st) programs are starting! Our Thursday programs will be starting on April 21st.
Register Now for our Spring programs as they are filling up!
Some of our unique programs are:
CANSkate Syncro MONDAYS! 5pm. Only $50 if you are currently registered into another CanSkate program. This is a great time to try this out and you can be apart of a great team.
Adult - Learn to Skate Again program offered on Saturday for only 1/2 hours from 11:25am.
Also Exciting News!!! Skate Lakeshore and the Lakeshore Recreation will be holding a Summer Skating Camp this year again!!! Registration for Summer Camp will be opening Monday April 11th.
Please email us with any questions.
WEEK OF MARCH 28TH SCHEDULE
posted Mar 27, 2022, 11:22 PM
Week of March 28th Schedule
Monday March 28
Regular Schedule
Winter Certificates will be ready
Tuesday March 29
Tuesday Family Skate 6-720
Tuesday Winter Certificates will be ready
Thursday March 31
Thursday Family Skate 6-720
Junior & StarSkate regular program
Thursday Winter Certificates will be ready
April 2nd
Skills Challenge - Presentations and Family Skate (see above schedule)
APRIL 2ND EVENT
posted Mar 27, 2022, 11:21 PM
Skaters who have registered in our final event on Saturday should have received a schedule and a group assignment in an email this morning.
If your skater is not skating in the event you can still come out and watch and participate in our family skate:
Saturday April 2nd (times are approximate):
9:00 - 10:00am - Group Skills Challenge
10:00 - 10:20am -

CanSkate Synchro Presentation

10:30 - 11:00am - Group Skills Challenge
11:00 - 11:15am -

Elementary Synchro Presentation

11:15 - 11:30am - Group Skills Challenge
11:30 - 11:45am -

Beginner Synchro Presentation

11:45 - 12:00pm -

Adult Synchro Presentation

12:10 - 12:15pm -

Solo Presentation

12:15 - 12:35pm - Group Skills
12:35 - 12:40pm -

Solo Presentation

12:40 - 1:50pm -

Family Skate
NEXT FEW WEEKS
posted Mar 20, 2022, 9:45 AM
Monday March 21
Tuesday March 22
Thursday March 24
Saturday March 26
Regular Schedule
Winter Certificates will be ready
Monday March 28
Regular Schedule
Winter Certificates will be ready
Tuesday March 29
Tuesday Family Skate 6-720
Tuesday Winter Certificates will be ready
Thursday March 31
Thursday Family Skate 6-720
Junior & StarSkate regular program
Thursday Winter Certificates will be ready
April 2nd
Schedule – TBA (this will be out very soon) registration is closed for this event. But you are still welcome to come and Support our Silver Stars Synchro Team.
SPRING SKATE
posted Mar 19, 2022, 12:28 AM
REGISTRATION NOW OPEN FOR SPRING!
CANSKATE 10+ Mondays at 7pm
POWER SKATE - Saturday at 8am
CANSKATE for HOCKEY - Mondays at 7pm
Come out and try our CANSKATE for SYNCHRO!! If your skater wants to figure skate and become a member of the Silver Stars Program you can give it a try! We are offering this at a cost of $50 as a second day skate for 6 weeks!
We also have our regular PreCan, Parent and Tot, and CanSkate programs on Thursday and Saturday.
SKATING MARCH BREAK
posted Mar 14, 2022, 9:33 PM
Just a reminder that we are skating during March Break. See you on the Ice.
SPRING REGISTRATION
posted Mar 6, 2022, 3:42 PM
Spring Registration is now open. Please note that Thursday is 5 weeks and Monday and Saturday are 6 weeks.
FAMILY DAY - NO CLASSES
posted Feb 20, 2022, 7:41 PM
Just a reminder Monday February 21st there are no classes. Please come and join our Silver Stars Synchro Team at 11am on the Rock rink for their exhibition skate.
FAMILY DAY 2022
posted Feb 17, 2022, 7:55 PM
Check out what is going on at the ATRC on Family Day. Registration is required for the Activities but you can come in and watch the Silver Stars - no reservations required! Demonstration will start at 11:00am on the Rock Rink.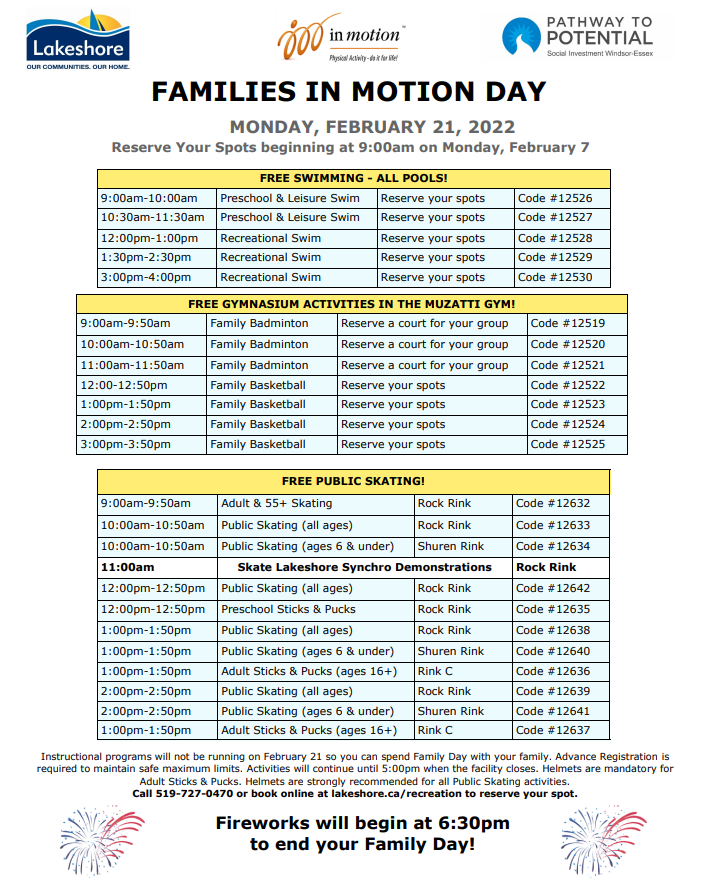 SILVER STARS SKATING AT THE SPITS
posted Feb 13, 2022, 8:53 AM
Our Silver Stars teams will be skating at the Spitfire intermission on Thursday February 24th @ 7:30pm (Elementary Team) and Sunday March 6th @ 4:05p (Beginner Team). If you would like to come out and support and encourage our teams you can purchase tickets at the cost of 18$ each. Please let us know as soon as possible as there is still only 50% capacity and seats are going fast! You can email us at skatelakeshore@hotmail.com with your request.
WHAT TYPE OF HELMET?
posted Feb 2, 2022, 9:42 PM
Helmets are required and they must be Hockey Helmets!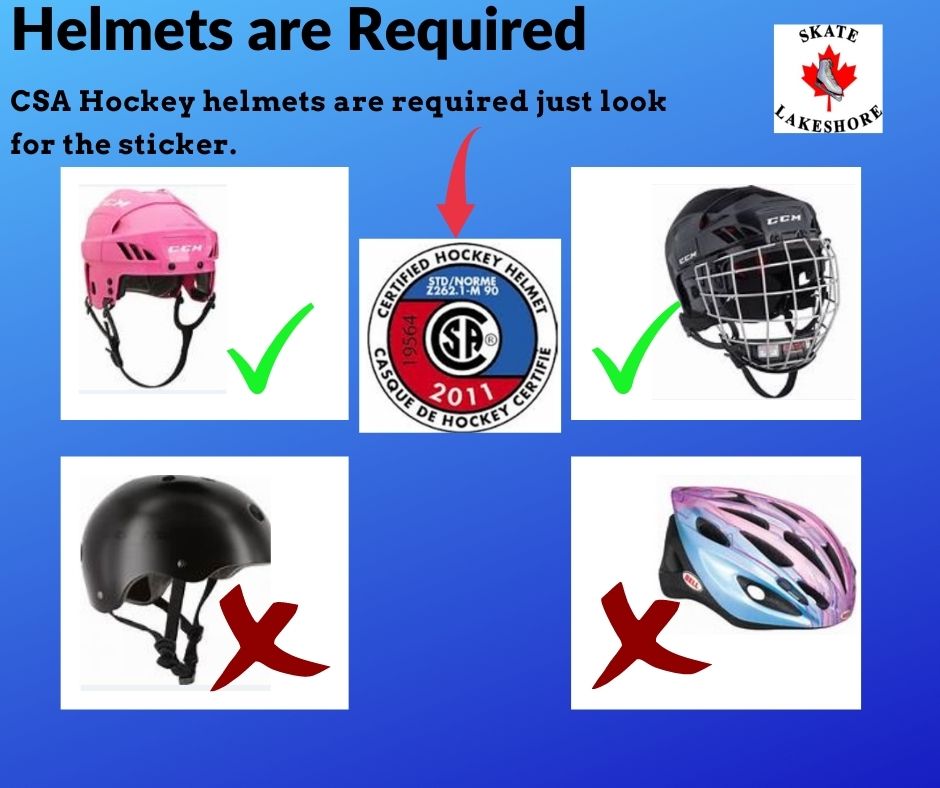 SKATING STARTING THIS WEEK!
posted Jan 31, 2022, 1:02 PM
We are excited to start with our winter session this week. Please remember to complete your Town of Lakeshore screening and have your QR code ready to be scanned. You can find the link to the Screening on the Skate Lakeshore Website.